At TFH, we have skip bins for hire in a variety of dimensions to suit almost any waste type. As a leading skip bin hire company with service teams across Australia, we have a range of skip bin sizes to choose from, all with affordable prices and suitable for a variety of waste removal applications.
When you need a skip to dispose of any waste type, phone or email our great service team and we will be able to advise you on the right bin for your needs. We also offer online booking to save time, and in some locations we can provide next day delivery, with our full range of skip bins available for both short and long term hire.

Our skip bin hire service is currently available across Sydney, South East Queensland, including Brisbane, Gold Coast, Ipswich and Sunshine Coast.
The Benefits of Skip Bin Hire
Our skip bins are used for waste removal in both commercial and residential settings, and so are a highly recommended way of disposing of all different waste types.
For instance, a skip bin is an essential tool on building sites, as well as for mixed waste removal during renovation and demolition projects, as well as for downsizing when moving house, disposing of garden waste, and much more.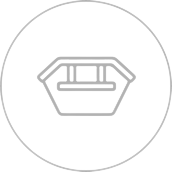 Value for money skip bin hire
In addition, when you hire skip bins from TFH, you are in the right place to benefit from a great price, value for money, and the excellent service provided by our team, as well as being able to choose a skip bin size and weight limit that is most appropriate for your needs.
What's more, if you are unsure about how much waste you have and so aren't sure what bin size you need, or you need advice on what sort of waste can de disposed of in our skip bins, our friendly service team is always on hand to help and answer any questions you may have regarding your skip bin hire needs.
Skip bin sizes for hire
We have dependable skips that range in size from 3 cubic metres to 10 cubic metres, and so regardless of the waste types you need to dispose of, we can supply a skip bin with a weight limit to meet your rubbish disposal needs.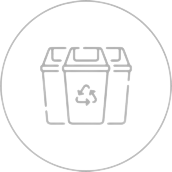 Your skip bin hire specialists
If you want to book skip bin hire, please phone our friendly service team and we will be happy to provide a free quote, or use the form to arrange an online booking.
Our Full Range Of Waste Removal Equipment For Hire
Our waste removal equipment hire service not only includes skip bins in a variety of sizes, but also a selection of other equipment for the effective removal of rubbish in all kinds of settings.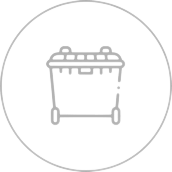 Mobile skip bin hire
Our mobile skips can be used in a range of settings, and have a 4 cubic metres capacity and a 1,000 kg weight limit. They provide a number of waste disposal benefits, not least the fact that they are easy to move and so can be located in your home driveway, garden, garage or evenon the road (please note: as they are registered vehicles, our mobile skip bins are subject to road rules).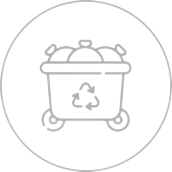 What waste types can be disposed of in a mobile skip bin?
Mobile skip bins can be used to dispose of different waste types, including general waste, office waste, green waste, light building waste and more.
However, you might need to dispose of a waste type that isn't suitable for a mobile skip bin (e.g., asbestos, electrical goods, gas bottles, etc.), so for clarity, customers should contact the TFH service team, and we will be happy to advise you on the right bin, or the right place, to dispose of your rubbish and waste.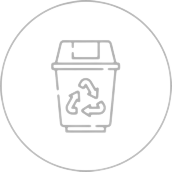 Wheelie bin hire
We have a range of 240 litre wheelie bins for hire, which can be used for disposing of commercial and business waste, as well as for recycling, or disposing of food waste.
If you have a range of different waste types to deal with, separate bins can be labelled and used accordingly to ensure that right bin is being used for the right waste type.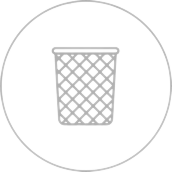 Portable waste enclosure hire
This is a versatile alternative to conventional skip bin hire, as a portable waste enclosure can be used both for disposing of rubbish, and/or for storing goods securely. They are easy to assemble (no tools required) and move, and we can also supply padlocks for added security.
Our portable waste enclosures can be used on event sites, as well as on commercial, business and domestic sites.
Hook bin hire
Hook bins are larger than our other skip bins, and are so called because they need to be lifted on and off the delivery truck using crane hooks. They also have flat walls, rather than the sloping side walls of regular skip bins, meaning that some materials can be stacked more easily.
Contact our service team to find out more about the bigger bin sizes we have available and where our hook bins can be delivered.
What Different Waste Types Can Be Disposed Of In Skip Bins?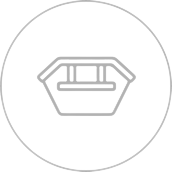 Skip bin hire for commercial, business and residential renovations
Skip bins are the ideal way to dispose of waste and other rubbish that is produced during renovations. You can choose an appropriate skip bin size from our large range to suit your needs, and we both deliver and collect from your home or work site at the end of the rental period.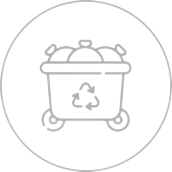 Construction waste skip bin hire
During the hard work of any construction project, significant amounts of waste will likely be produced that needs to be disposed of safely and efficiently. Skip bins not only save time by making on site rubbish disposal possible, but they are also cost effective and straightforward to hire.od.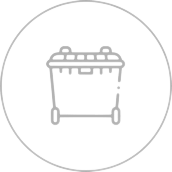 Garden and other domestic waste
You might be downsizing, undertaking a residential clear out, moving company premises, or giving the garden a makeover — in any of these situations, you are likely to end up with plenty of waste and rubbish that needs to be gotten rid of.
With skip bin hire, you don't have to constantly fill a trailer and go back and forth to the dump; instead, you can order bin delivery direct to your home, and simply fill the bin as you go along. We will then take care of collection the you're ready.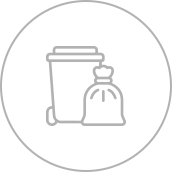 Skip bins for demolition waste
When a residential, commercial or any other type of building is being demolished, significant waste disposal tools and procedures need to be put in place to ensure that rubble and other builders' waste can be effectively stored on site, and then disposed of safely.
Hook skip bins and larger sized skip bins provide the answer, as they have the capacity to handle any waste type and offer a greater weight limit.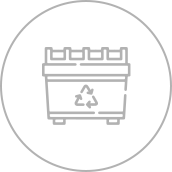 The right skip bins for rubbish
Skip bins can also be used just for general rubbish disposal at home, your business premises, or anywhere else that large amounts of waste can accumulate.
With a large range of different sized skip bins to choose from, customers simply need to contact TFH and we will arrange to drop off the right skip for your purposes.
Our Full Range Of Skip Bin Hire Services
We currently offer affordable skip bin hire services across south east Queensland, including Brisbane, Gold Coast, Ipswich and Sunshine Coast.
To help you choose the right bin for your needs, we have a large range of skip bin capacities to choose from:
If you are unsure about what sized skip you need, what sort of waste and rubbish can be disposed of in one of our skip bins, or you just want to get an answer toany questions you might have about how to book skip bin hire or the weight limit of our skip bins, don't hesitate to get in touch with a member of our wonderful service team. We will be only too happy to help you find the best rubbish removal and skip bin hire solution for your needs.
You can also find out more about our skip bins' competitive prices and get a quote for our services using the online enquiry form.
As acompany, we are committed to customer satisfaction and providing all your skip bin hire needs at an affordable price. With a large range of skip bins to chose from, ranging in size from 3 cubic metres up to 10 cubic metres, we can help to make waste disposal services more cost-effective for both individuals and businesses.
As well as cheap skip bin hire, we also have a large range of other waste removal equipment for hire. This includes mobile skip bins, wheelie bins, portable waste enclosures and hook bins, so no matter what sort of skip bin or equipment you choose to have delivered, we can organise a value for money deal that will help you to save time, and which takes the hard work out of skip bin hire wherever you are in south east Queensland.